The start of canned food industry in Turkey is not certain. The starting date is considered to be 1907-1908 in Istanbul and 1910 in Izmir. The canned food factories that are mentioned in the counting made between 1913 and 1915 are below:
Emniyet Canned Food Factory
Kartal Canned Food Factory
Ermis Canned Food Factory
Ariş Canned Food Factory
Panapulo Yorgi K.Canned Food Factory
Cimaris Yani Canned Food Factory
Bubabi Canned Food Factory (Bartın)
İdeal Canned Food Factory
• Elmas Canned Food Factory

İhsan Cemal Bey who learned chemistry and canned food in Germany established the most modern can factory in Bursa in November 19, 1925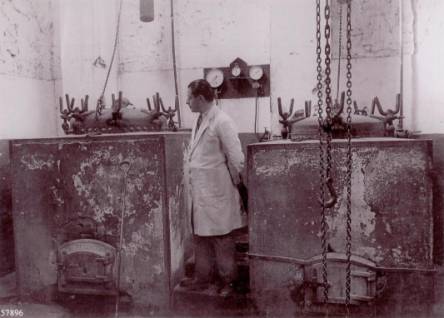 İhsan Cemal Bey and autoclaves in Antel canned food factory

İhsan Cemal Bey became partner with Mehmet Nuri Bey in 1928 to expand his business and continued production in İnebey Madrasah. After that, they continued their activity until 1950 as BURSA CANNED FOOD, a limited company with 11 partners. After the dissolving of this company in 1950, İhsan Cemal established a family company named ANTEL and his son Afif ANTEL maintained the activity of the company until 1998 and then he sold it.
In 1926, Marmara Canned food factory began production.
In 1927, Minarezadeler pickle factory was established in Gemlik and they started can production after 1946 with name "MİNARE CANNED FOOD" factory.
In 1933, İsmail Dölen and his sons established the AZİM canned food factory in Karadeniz Ereğlisi. We know that Atatürk showed this factory to the Iran Shah while visiting the Turkish industrial establishments.
Canned food industry showed a very slow advance until 1948 and 8 factories were established until that day. After that year, the canned food industry advanced faster.
In 1949, Osman KABASAKAL established the VATAN canned food factory. ?
In 1953, Bahri TÜRKİLİ established the TÜRKİLİ canned food factory in Bartın.
In 1954, Mehmet SİPAHİOĞLU established TAMEK (Turkish-German Fruit Extract Company) canned food factory with the partnership of Germans and the factory started production in Bursa in 1955.
In 1956, MİTHATBEY and in 1958 TAMTAD canned food factories were established in Tire. TAMTAD, which was established by Mesut YUVGUN, started vegetable canned food production in a 300 m2 facility in Tire industrial area and they were producing their cans themselves.
In 1960, there were 44 factories in Turkey. At that time, canned food factories produced canned vegetables, ready food and fish. The factories were mostly in İstanbul, İzmir, Bursa and Çanakkale. After the establishment of tomato pulp factories, an important development was seen in this sector. In 1990's, tomato pulp and pickle industry showed great development. But the development of the green houses and most vegetables being available in every season, caused the canned vegetable industry to regress. Today, although the canned food factories can be found all around Turkey, they are mostly in Bursa and İzmir.